---
By Admin July 18, 2023 Category: Business Law Tags: California Employers california employment california labor laws california workforce chase law group chase law manhattan beach deann chase employee rights employment attorney employment contracts employment law updates employment lawyer employment rights hr compliance labor regulations los angeles remote team management remote work remote work challenges remote workforce scott k liner small business law telecommuting work from home workplace policies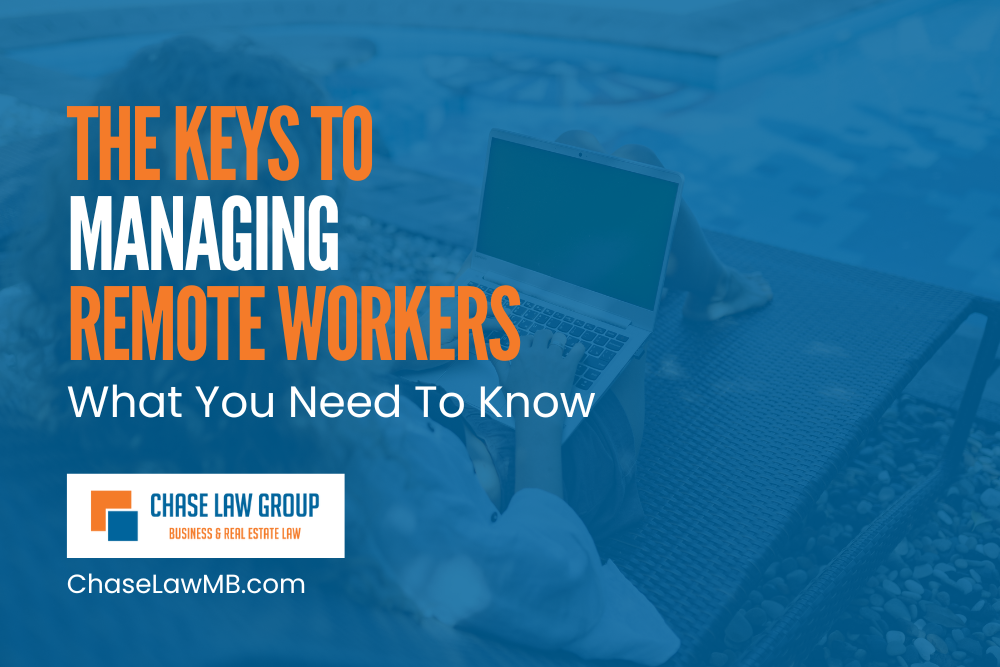 Over the last several years, remote working has radically changed the traditional office workforce.  With employees no longer physically present in the office, employers face new challenges in effectively managing remote workers to ensure their productivity and compliance with company policies and California's extensive employment laws.   While there are certainly advantages for employers to have remote workers such as savings in office space expenditures and improved employee morale, there are important considerations to be taken into account whenever remote working arrangements are being used by employers.  Below are some key considerations and requirements that all employers should know.
Develop and Implement A Remote Working Policy That is Appropriate for Your Organization
As a preliminary matter, employers are not required by any state or federal law to have employees work remotely. Thus, the decision as to whether to have your employees working remotely depends on each organization's specific needs and requirements. Moreover, even if a company allows remote working, it can limit the type of positions that are permitted to work from home. However, employers should be sure they have a legitimate business reason for not allowing certain positions to work remotely while permitting others to do so to avoid claims of discrimination.
Employers who use remote workers should create and distribute a remote working policy to set forth requirements and expectations for their remote workforce. Basic requirements include that they must have a quiet and private room to work from that has adequate internet service. Additionally, employees should be informed that they must use company technology and software (to the extent it is provided), or if they are supplying their own technology that it meets all the requirements of the job. Also, if employees are using videoconferencing software, the policy should include that appropriate dress and behavior is expected.
Employers should avoid micromanaging employees working remotely, including the usage of software that tracks what employees are doing at all times. While on its face an employer may believe there is benefit to such tracking, ultimately it has been shown to be viewed negatively by employees and can result in turnover.
Companies should also ensure that cybersecurity concerns are met by providing employees a business only email and institute policies that protect both company confidential information and trade secrets as well as private business and personal data of customers.
Be Sure to Comply with All Applicable Wage and Hour and Other Workplace Legal Requirements
Remember that, despite the fact that remote workers are spending their workdays at home, the same laws that apply at the office also apply to them when working remotely. Those laws include wage and hour regulations, such as being compensated for all work performed and receiving all required meal and rest breaks.  Therefore, employers should be sure that employees accurately track and submit their time (if they are non-exempt). Employers must also ensure that they comply with the labor laws and ordinances of the location that the remote employee works from.  For example, if the company is located in Manhattan Beach, but the employee works remotely from their home in Santa Monica, the employee is entitled to the higher Santa Monica minimum wage rate.  Therefore, it is important that employers remain aware of where the remote employee is working and be familiar as to whether that location has any unique labor laws that must be considered.
Moreover, employers must be aware of the potential need to provide reasonable accommodations to remote working employees consistent with the Americans with Disabilities Act and The California Fair Employment & Housing Act.  This could include providing and paying for ergonomic chairs, standing desks or other requested accommodations. 
Employers must also distribute all posters required by California and federal law to their remote employees. (Click here for our recent article related to required posters.) Most required posters can be sent electronically to remote working employees.
Employers Must Reimburse Employees for All Reasonable Office Expenses Directly Related to Their Remote Working Location
Labor code section 2802 requires employers to reimburse employees for "necessary expenditures or losses" incurred by the employee in the discharge of their duties or under "obedience to the directions of the employer." The following is a list of types of home office/remote worker expenditures that could require employer reimbursement.
Cost of office equipment and supplies such as printer or desk
Cost of necessary home office improvements, such as ergonomic chair or standing desk
Cost of technology, including a company computer, special lighting, a computer camera, or other equipment necessary to perform work duties
Cost of safety equipment such as masks or sanitizers
California case law requires that employers reimburse employees a "reasonable percentage" of an employee's use of personal phone and/or internet cost.  In determining the reasonable percentage of these expenses employers must take into consideration the actual cost to the employee.  One way to do this is to request that the employee share this information by providing the employer with a copy of their phone and internet bill.
When determining whether an expense (such as for a computer or phone) incurred by a remote working employee was necessary as a direct consequence of the employee's duties, an employer can check to see when the equipment was purchased by requesting an invoice for the product. If the employee already had a computer or phone before working remotely, then the employer likely won't be required to reimburse the employee for this expense.
Finally, don't forget that even though the employee is working from home, they are entitled to mileage reimbursement for travel to non-office locations. (Note that if the remote employee is residing a substantial distance from the office, then the employer likely would be obligated to pay for the employee's travel expense to the office if it is required.)
If you have any questions regarding legal compliance with your remote workers, contact our employment attorney Scott Liner at [email protected] or set up a consultation.
Please note that this article is for informational purposes only and should not be considered legal advice. It is recommended to consult with an attorney for specific legal guidance pertaining to your business and its practices.