---
By Admin May 18, 2023 Category: Business Law Tags: Business Compliance Business Lawyer Business Owners business protection business risk management Business Safety California Compliance California Employers chase law chase law group chase law manhattan beach Compliant Workplace deann chase Employment Laws Legal Protection los angeles business attorney Small Business Advice small business law Workplace Posters Workplace Regulations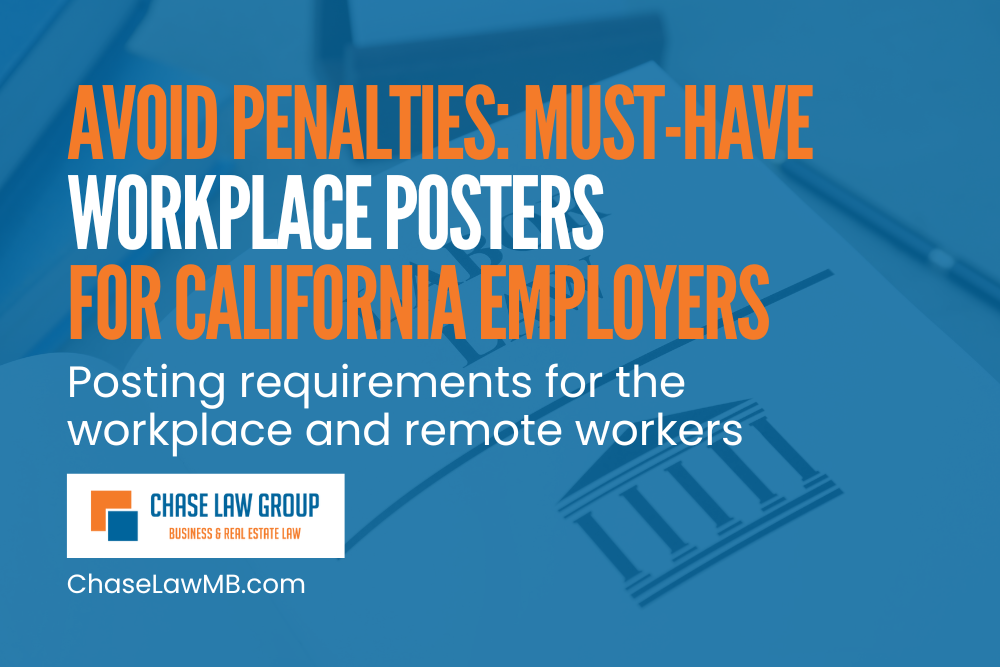 By Scott Liner, Employment Attorney
California employers must meet all state and federal requirements related to posting employment-related information in the workplace. Specifically, the California Department of Industrial Relations requires employers to post information related to wages, hours and working conditions in an area frequented by employees where it may be easily read during the workday. The required posters can be seen here by clicking on this link to the Department of Industrial Relations. Federal law required postings can be viewed by clicking here.
Many of the workplace posters are available at no cost from the requiring agency or can be purchased from independent vendors that can be easily found online.
Required workplace posters include the following topics:
Minimum wage
Paid sick leave
Payday notice
Safety and health protections on the job
Emergency phone numbers
Access to medical and exposure records
Advising re workers compensation benefits
Whistleblower protections
Prohibition of smoking
Log of summary of occupational injuries and illness
Prohibition of discrimination and harassment in the workplace
Transgender rights in the workplace
Pregnancy disability leave (only for employers with 5 or more employees)
Notice of unemployment and disability insurance benefits
Right to time off to vote
Right to CFRA/FMLA leave (only for employers with 5 or more employees)
(Note that additional posters are required for specific industries such as farming and trucking.)
Where must posters be placed?
The workplace posters must be placed in a conspicuous area on the employer's premises where employees and applicants for employment can readily see it. A break room is the ideal location for the posters. If there is no break room available, then another area such as where a water dispenser or coffee maker is located in the workplace. The posters must be printed on paper that is at least 11 by 8.5 inches.
Posting requirements for remote employees
Employers must also be sure that they meet their posting obligations for remote workers. Effective January 1, 2022, employers must meet this obligation by sending copies of the posters as attachments to an email delivered to the remote employees.
Potential penalties for failing to comply with poster requirements
Employers who fail to meet their obligations pertaining to these posters are subject to penalties that range from $110 to $10,000 with the higher range resulting from repeat offenders. Also, the failure to provide these required posters could be used as evidence in cases brought by employees for failure to comply with California and federal employment laws.
Should you have any questions regarding your organization's posting obligations, contact our employment attorney Scott Liner or call Chase Law Group at 310.545.7700.