---
By Admin March 27, 2023 Category: Business Law Tags: burglary prevention business burglary preparedness business burglary prevention business insurance business liability business protection business risk management business theft prevention chase law chase law group chase law manhattan beach customer data security data security deann chase Legal Compliance los angeles business attorney small business law small business loss prevention small business security theft prevention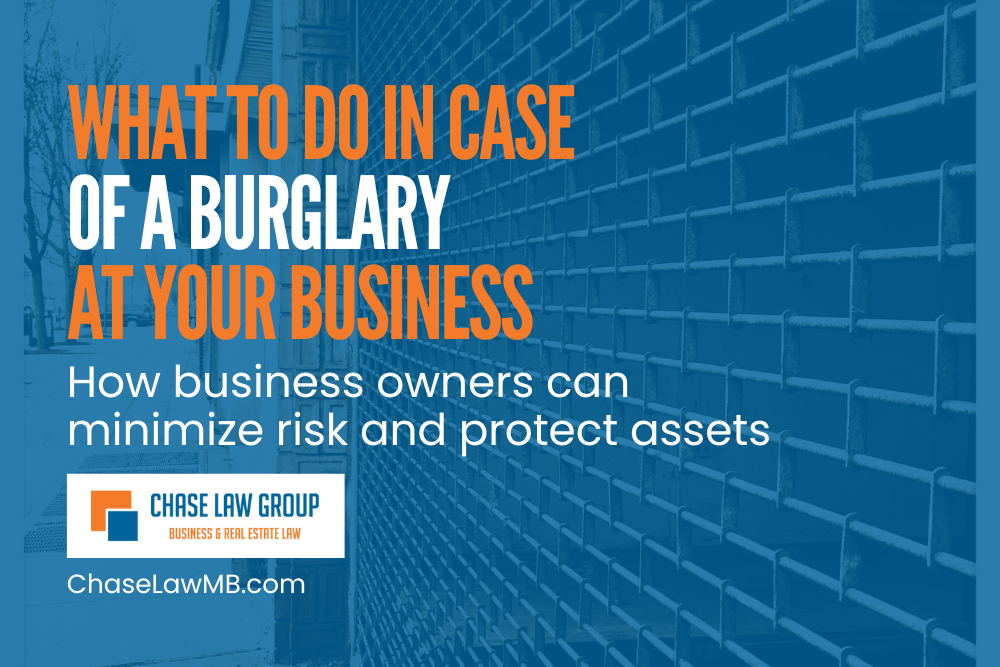 Theft and burglary can be devastating for small businesses, both financially and emotionally. However, there are several steps business owners can take to minimize the risk of theft and protect their assets.
Secure the premises
The first step in protecting your small business against burglary is to secure your physical premises. This can include installing a security system, including well-placed cameras and alarms, and making sure all entrances and windows are properly secured. Keeping the premises well-lit, both inside and outside is important and local law enforcement officers have advised that you do not obstruct the windows or view into your business, in case they need to do a check on the business.
Protect valuables and limit cash on-hand
Another important step that may seem obvious is to ensure that any valuable items are kept in a secure location, such as a safe or locked room. Limiting who has access to the locked areas and frequently changing access codes can also be a good preventative measure. This includes limiting the use of cash in your business and not leaving cash on the premises, especially after hours if it can be avoided.
Limit access to sensitive information
In addition to valuables and cash, limiting access to sensitive information is an important step in protecting your business from not only theft but legal liability. This can include customer data, financial information, and other confidential information. Make sure that access to this information is limited to authorized personnel only, and that all sensitive information is stored securely.
Review your insurance coverage
In addition to physical security and access control, small business owners should also consider insurance to help recover from theft, burglary and vandalism. A comprehensive insurance policy can provide financial protection in the event of a theft or burglary, and can also cover any damage to property caused by a break-in. Be sure to check in with your insurance advisor consistently throughout the year to ensure your coverage is sufficient for any business changes.
Take immediate action
If theft or burglary does occur, it is important to take immediate action. Contact the police and file a report, and document any damage or stolen items. Notify your insurance company and provide them with a copy of the police report, as well as any other documentation related to the incident.
Review contracts or agreements
From a legal perspective, it is also important to review any contracts or agreements related to the stolen property. If the stolen property was leased or financed, contact the leasing company or lender to report the theft and discuss any obligations or liabilities under the agreement.
Determine if clients or customers are impacted
If a burglary or theft has impacted your customers or clients, it is important to communicate with them in a timely and transparent manner. Depending on the severity of the incident, you may need to notify your customers or clients about any potential risks to their personal information or other sensitive data, how it may impact them, and what steps you are taking to address the situation. By being proactive in your communication, you can help to minimize any potential harm to your customers or clients and maintain their trust in your business.
By following these steps, small business owners can take action to minimize the risk of theft and protect their assets in the event of a burglary. Be proactive and consult with your insurance advisor before you have a loss, so that you have a clear understanding of your coverage in the case of theft or burglary. In the case of a loss, be sure to work closely with your business attorney to gain a better understanding of your legal obligations and what steps you can take to protect your employees, customers and your business. For assistance with these matters, contact Chase Law Group or call 310.545.7700.