---
By Admin August 22, 2023 Category: Business Law Tags: business risk management California Employers california employment law california workforce chase law group chase law manhattan beach deann chase Employee termination employee transition employment attorney employment law insights employment law updates hr best practices hr compliance legal obligations Legal Protection los angeles scott k liner severance agreements small business law workplace contracts workplace litigation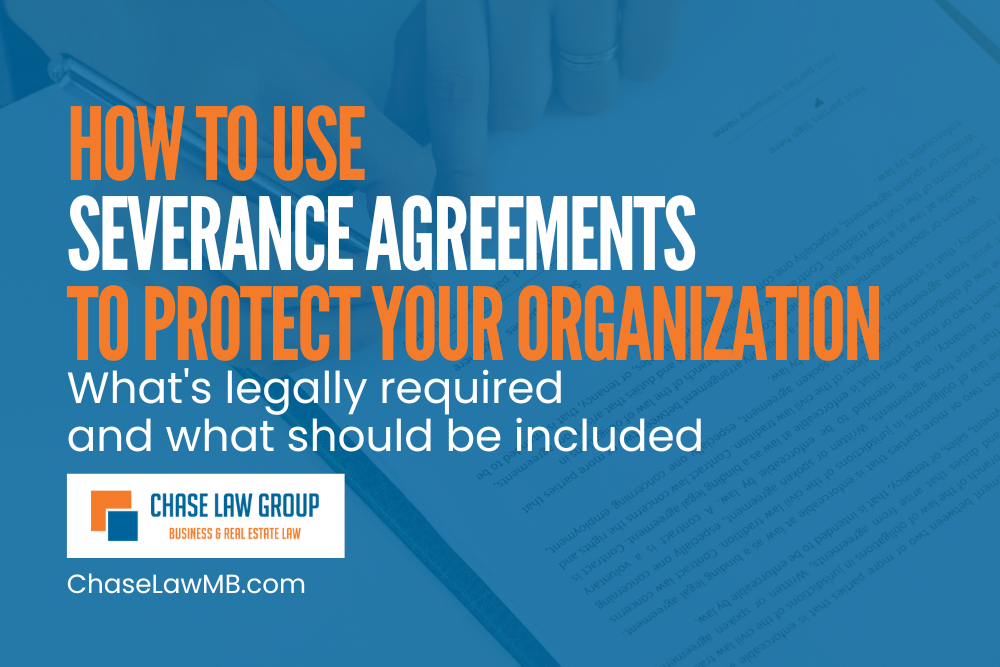 A severance agreement is a release to be signed by an employee whose employment is separated in exchange for payment of money (or other consideration). This can be an effective tool to protect a company from future lawsuits and other risks. Below we discuss legal requirements when using a severance agreement as well as specific provisions that should be included in the agreement to protect the organization.
Legal Requirements When Presenting A Severance Agreement
Whenever severance agreements are used there are certain legal requirements that must be followed. As a preliminary matter, in order to be enforceable, the employee must be provided some consideration other than what is already owed to them. Thus, already earned wages does not constitute sufficient consideration to enforce a severance agreement. Also, never withhold final pay on the condition that the employee execute a severance agreement. Otherwise, there is no specific amount that is required or customary when deciding how much to offer in a severance.
Additionally, California requires that language be included in the severance agreement that the employee has five days to review the agreement, and that they have the right to consult with an attorney.
Moreover, severance agreements typically include a confidentiality provision. However, although the amount of severance can be required to be kept confidential, there must be language in the agreement that acts that are believed to be unlawful in the workplace by the employee, such as harassment and discrimination, need not be kept confidential.
Provisions That Should Be Included In A Severance Agreement To Protect The Company
While not required, there are certain provisions that should be included in any severance agreement. First, a severance agreement should include a provision that requires the employee to waive and release not only known claims, but also unknown claims. By including language waiving unknown claims, the employee's release includes even potential claims they may be unaware of at the time they sign the agreement. However, to protect against an unknown claim, the severance agreement must set forth specific language set forth in California Civil code section 1542. Be sure to consult with employment counsel to include this critical language in the severance agreement.
Additionally, if the employee is 40 years old or older, in order to include a waiver of an age discrimination claim, the severance agreement must include specific language set forth in the Older Workers Benefit Protection Act (OWBPA). An OWBPA waiver requires that the employee be provided 21 days to review the release and also allow them seven days after they sign the agreement to revoke it. Be sure that any severance payment is not issued until the revocation has expired.
Also, when presenting a severance agreement, consider including a non-disparagement clause wherein the employee is prohibited from making statements that are disparaging of the company and its employees. This will protect the company from the employee making statements that could damage the company's reputation.
The severance agreement should also include language that both reminds the employee of the requirement that company information and trade secrets are confidential and that all such information and documents be returned.
Furthermore, an effective severance should confirm the following: (1) that California law will apply; (2) that all wages including vacation and paid time off have been paid to the employee and that the employee has been reimbursed for all business expenses incurred; (3) that withholdings will be taken out of any severance payment; and (4) confirm that no workplace injuries have been incurred by the employee.
It is recommended that companies consult with an experienced employment attorney who can assist in preparing an appropriate and effective severance agreement. Should you have any questions regarding the use of a severance agreement or need assistance in drafting one, please contact our employment attorney Scott Liner at [email protected] or call us to set up a consultation at 310-545-7700.
Please note that this article is for informational purposes only and should not be considered legal advice. It is recommended to consult with an attorney for specific legal guidance pertaining to your business and its practices.