---
By Admin June 14, 2023 Category: Business Law Tags: arbitration agreement Business Compliance Business Lawyer Business Owners business protection business risk management chase law chase law group chase law manhattan beach deann chase employee handbook employer responsibilities employment contracts employment documents employment law essential documents Legal Compliance Legal Protection los angeles business attorney non disclosure agreement offer letter scott k liner severance package Small Business Advice small business law workplace contracts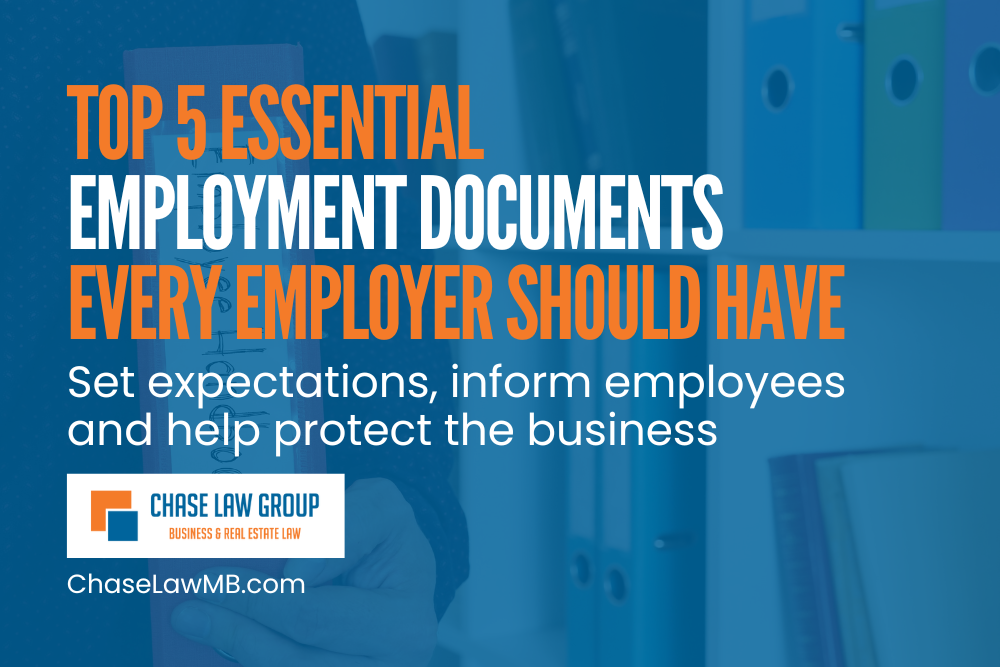 Whether your company is a large or small employer, there are five essential documents that should be implemented and distributed to your employees that will serve to both protect (as best as possible) the organization from employment-based claims as well as to keep your employees informed and notified of expectations concerning their employment. Consultation with experienced employment counsel, who can aid in preparing these various documents is highly recommended. The following are the top five essential employment documents every employer should have.
Offer Letter
Once a decision has been made to hire an employee, the critical terms and conditions of the offer and position should be set forth in a short offer letter. The letter should confirm the at-will nature of employment (unless the employment is term based or subject to "for cause" separation), the position the employee will fill, hours of work, and pay (whether hourly or salary depending on whether they are exempt or not). The letter can confirm if a background check will be conducted and the employee's start date. The offer letter can confirm the hire is subject to other policies including those set forth in the employee handbook. Finally, the offer letter should be signed by the hired employee in advance of their start date.
Employee Handbook
The best way to set forth the company's rules and expectations is through a well-crafted employee handbook. The employee handbook will confirm employment is at-will, set forth the company anti-harassment and discrimination policies and procedures, as well as explain the types of leaves of absence that are permitted, and the company paid sick leave, vacation, and code of conduct. By ensuring that the employee has reviewed the handbook, confirmed in an executed acknowledgment form, the company can later assert, if necessary, should an employment related claim be made, that the employee was notified of all relevant rules and procedures and policies. Moreover, employees can refer to the handbook should they have any questions about applicable company policies and procedures.
Arbitration Agreement
Whether or not to have and use an arbitration agreement with your employees, is a very employer-specific decision. There are pros and cons when deciding to have an arbitration agreement. Moreover, the laws related to the permissibility of using arbitration agreements can be a moving target, with recent cases both rejecting and currently supporting the use of such agreements in the workplace. A discussion with an employment attorney can help determine if an arbitration agreement should be used by your organization. Importantly, an effective arbitration agreement can ensure that employment claims are kept out of court and kept mostly confidential. Generally, arbitration is a less expensive and more efficient means to resolve employee and employer disputes.
Non-Disclosure Agreement
An important tool to use in protecting company assets and intellectual property is to institute a Non Disclosure and Confidentiality Agreement ("NDA") to be executed by employees. The NDA will ensure that company trade secrets will not be improperly used in competition with your organization and also detail what it is that is considered confidential and trade secret. By having a NDA in place, employers can protect against solicitation of company clients (through the use of company trade secrets) and also from solicitation of your employees by another departing employee. An NDA is important to have because in the absence of having one, a company is limited in its ability to protect its client information and relationships from departing employees.
Exit Document/Severance Agreement
The final essential document that employers should have relate to exit documentation, whether the employee is being terminated or the result of a resignation. The exit document can confirm that all final wages including accrued vacation and PTO have been paid as well as the reasons for the separation. If possible, the employer should get the departing employee to sign the exit document. Additionally, if severance is being paid to an employee, consideration should be made to have the employee execute a severance agreement wherein they release all claims against the company in exchange for payment. Note that final wages cannot be withheld based upon a requirement that the employee execute the severance agreement. So, additional consideration will need to be provided.
Also, note that California Labor Code section 2751 requires that employers provide written commission plan agreements whenever an employee's compensation includes commissions. The agreement must explain the method by which the commissions shall be computed and paid. The commission plan must also be signed by the employer and the employer must obtain a signed receipt from each employee. The statute incorporates the definition of commissions from California Labor Code section 204.1, which defines commission wages as "compensation paid to any person for services rendered in the sale of such employer's property or services and based proportionately upon the amount or value thereof." Excluded from this requirement are productivity or incentive bonuses.
Should your company need assistance in preparing and implementing any of these essential documents, contact our employment attorney Scott Liner at [email protected].
Please note that this article is for informational purposes only and should not be considered legal advice. It is recommended to consult with an attorney for specific legal guidance pertaining to your business and its practices.