---
By Admin April 27, 2023 Category: Business Law Tags: Brand Identity Brand Protection Brand Recognition Business Lawyer Business Owners business protection business risk management chase law chase law group chase law manhattan beach deann chase Entrepreneur Tips Intellectual Property Legal Compliance los angeles business attorney Protect Your Business Small Business Advice small business law Trademark Enforcement Trademark Infringement Trademark Law Trademark Registration Trademark Tips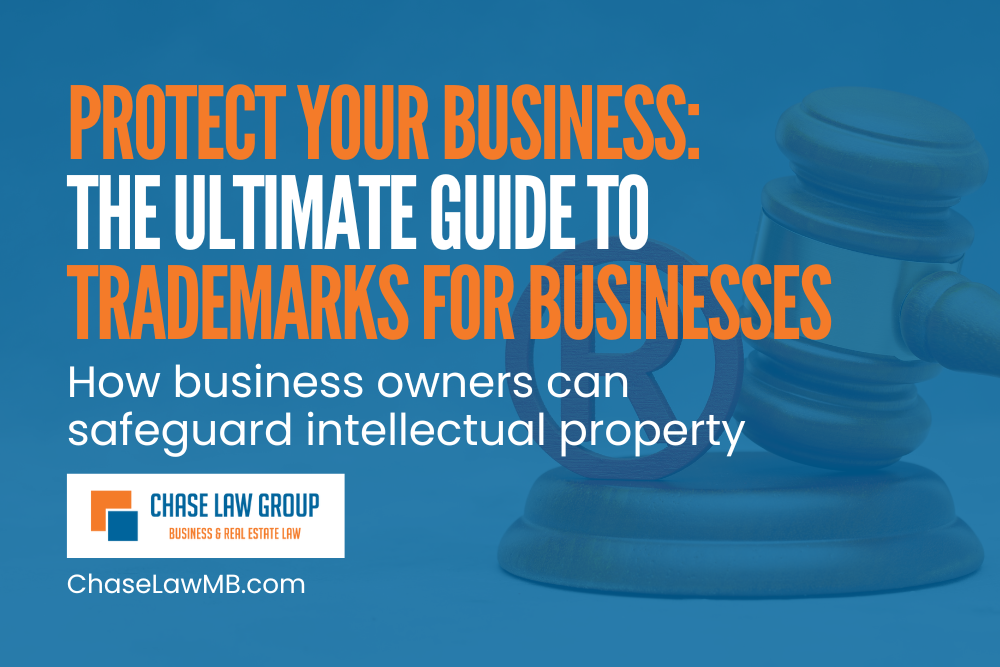 We can't emphasize enough just how important it is for business owners to protect their intellectual property, including trademarks. A trademark is a word, phrase, symbol, or design that identifies and distinguishes a company's products or services from those of others in the marketplace. This is what makes your brand memorable and recognizable.
When Should You File a Trademark?
Small business owners should also consider the timing of their trademark filing and do the research. The simplest way to see if your brand is already in use is by doing a simple google search and a trademark search at the USPTO (United States Patent and Trademark Office) website to see what's out there that's similar or already in use.
It is best to file a trademark application as soon as possible after the mark is in use or about to be used in commerce. It is never too early to protect your brand identity and prevent others from using similar marks. This is particularly important for small businesses that are just starting out and may not have the resources to fight legal battles in the future.
Descriptive versus Generic Trademarks
One of the key decisions small business owners need to make when filing a trademark application is whether to use a descriptive or a generic term. Descriptive terms are words or phrases that describe the product or service, while generic terms are common names or terms used to describe a category of products or services.
The main advantage of using a descriptive trademark is that it can immediately communicate to consumers what the product or service is. However, descriptive trademarks are often weak because they are difficult to protect and can be easily copied by competitors.
A descriptive trademark is a word or phrase that describes the product or service being offered. For example, "Super Soft" for a line of blankets. The main advantage of using a descriptive trademark is that it can immediately communicate to consumers what the product or service is. However, descriptive trademarks are often weak because they are difficult to protect and can be easily copied by competitors. This means that it may be more difficult to enforce a trademark infringement case in court.
On the other hand, generic trademarks are words that are commonly used to describe a particular product or service, such as "toothbrush" or "cola." Generic terms cannot be trademarked because they are considered too general and do not identify a specific brand or source of goods.
Distinctive Trademarks
To ensure that a trademark can be registered and protected, small business owners should aim to create a distinctive mark that is not descriptive or generic.
A distinctive mark is a type of trademark that is unique and memorable, and is able to identify the provider of a particular product or service. A distinctive mark can be arbitrary, or suggestive, and is afforded stronger protection under trademark law compared to descriptive or generic marks. Think of the "Nike Swoosh" logo. It is a unique and recognizable symbol that is synonymous with the brand and identifies Nike as the source of their products. But because it's arbitrary, there's really no connection to the products or services it represents, it's a swoosh. Therefore, it's considered a distinctive trademark.
Where to File a Trademark?
For businesses that operate solely within California and do not have plans to expand nationally, you may consider filing a trademark with the State of California. It's generally a quicker and less expensive process compared to filing with the USPTO.
However, the disadvantage of filing with the state is that your trademark protection is limited to California only, and it may be more difficult to enforce your trademark against infringers in other states. State and federal trademark laws are different and may not afford the best protection for you, so it is important to consult with an attorney to ensure your trademark is adequately protected.
When filing a trademark with the USPTO, you're provided with nationwide protection and it's generally considered stronger and more valuable compared to a state trademark. Plus, the USPTO registration process includes a thorough examination of potential conflicts with existing trademarks, which can help prevent legal disputes down the line.
The main disadvantage of filing with the USPTO is that it can be a more complex and expensive process, and it may take several months to receive approval.
Either way, it is also important to regularly monitor your trademark and enforce your rights against potential infringers. Ultimately, the decision to file with the State of California or the USPTO will depend on the specific needs and goals of the business.
When to Talk to an Attorney?
Business owners should carefully consider their trademark strategy and consult with a knowledgeable attorney to file their trademark and to decide the best course of action to ensure that their rights are protected. Creating a distinctive and protectable trademark can help business owners safeguard their brand and prevent competitors from using similar marks that could cause confusion in the marketplace. 
Additionally, if a trademark infringement has been discovered or a claim has been filed, business owners should work with their trademark attorney to consider what action to take including alternative dispute resolution methods such as mediation or arbitration, which can be less expensive and time-consuming than going to court. 
If you're a business owner looking to protect your brand and trademarks, don't hesitate to contact Chase Law Group today or call 310.545.7700. We have extensive experience in filing trademarks with both the state of California and the USPTO, and we can help to ensure that your trademarks are properly protected. Contact us now to schedule a consultation and take the first step towards safeguarding your business's valuable intellectual property.