---
By Admin March 08, 2022 Category: Business Law Tags: covid sick leave employer sick leave employment law small business law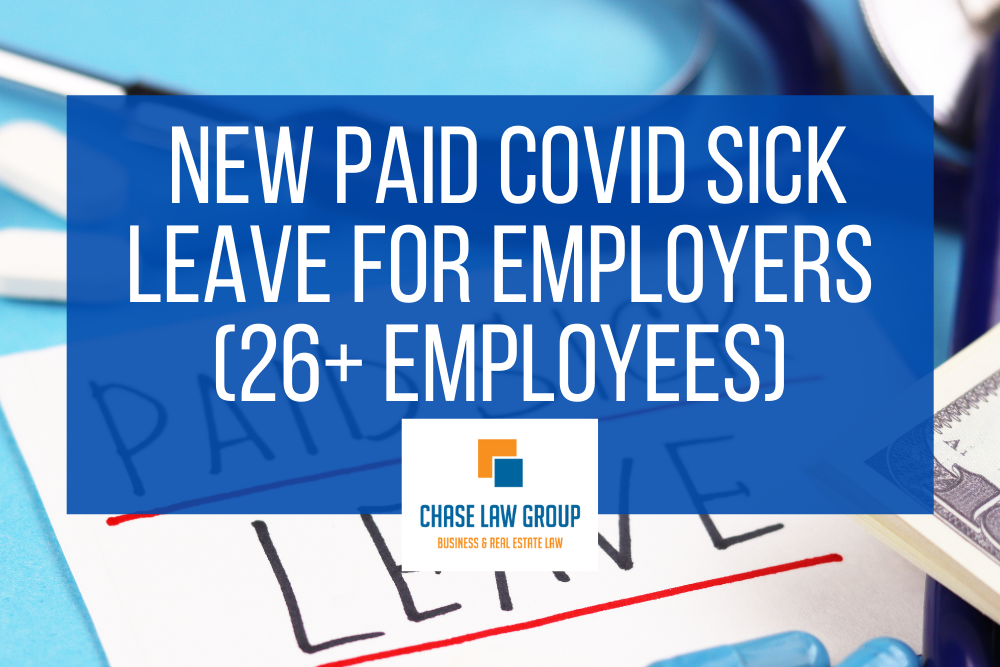 California has enacted a new paid Covid Sick Leave Law (Labor Code section 248.6) effective February 19, 2022 that applies to employers with 26 or more employees and provides potentially up to 80 hours of paid sick leave for qualified employees. The leave applies to anyone at covered employers (with 26 or more employees) from January 1, 2022 through September 20, 2022. So, workers who already missed work due to Covid would be entitled to paid leave for the time they missed subject to the requirements set forth below. (Employers who already voluntarily provided paid leave for Covid illness this year are entitled to a set off against the time provided under Labor Code 248.6.)
Workers can use the paid Covid sick leave for time off if they are unable to work or telework, under the following circumstances:
if they are experiencing Covid 19 symptoms and are seeking medical attention;
if the employee is subject to quarantine either under a health care provider's instructions or per the CDC or local guidelines;
to attend a vaccination appointment for themselves or a family member (Family member is defined as a parent, child, spouse, registered domestic partner, grandparent, grandchild and sibling.);
if they test positive for Covid 19;
if they or a family member are experiencing symptoms from the vaccination or booster;
to care for a family member with tested positive for Covid 19;
to care for a child whose school or place of care is closed due to Covid 19.
Under this new law, the above set-forth bases for leave are broken down into two separate banks of time "up to" 40 hours. Leave from one of the 40-hour banks is only available if the employee tests positive for Covid 19 or is caring for a family member who tested positive.
Leave for the other "up to" 40-hour bank will be available for the other covered reasons noted above.
Full-time employees are entitled to up to 80 hours of leave (two banks of 40 hours of time). For-part time employees (those who work less than 40 hours a week) they are entitled to the number of hours they work per week. Finally, the total amount of leave an employer is required to pay under the new law for an employee to obtain a vaccination or booster for themselves or a family member is three work days or 24 hours for each vaccination or booster shot. If the employee seeks more paid time, the employer may request that the employee provide verification from a healthcare provider that the employee or family member is continuing to experience symptoms related to the vaccination or booster shot.
Should you have any questions regarding this leave, you can contact Scott Liner, our employment attorney at [email protected].