---
By Admin March 24, 2022 Category: Business Law Tags: arbitration business law chase law group EFASASH federal law forced arbitration sexual assault claims sexual harassment claims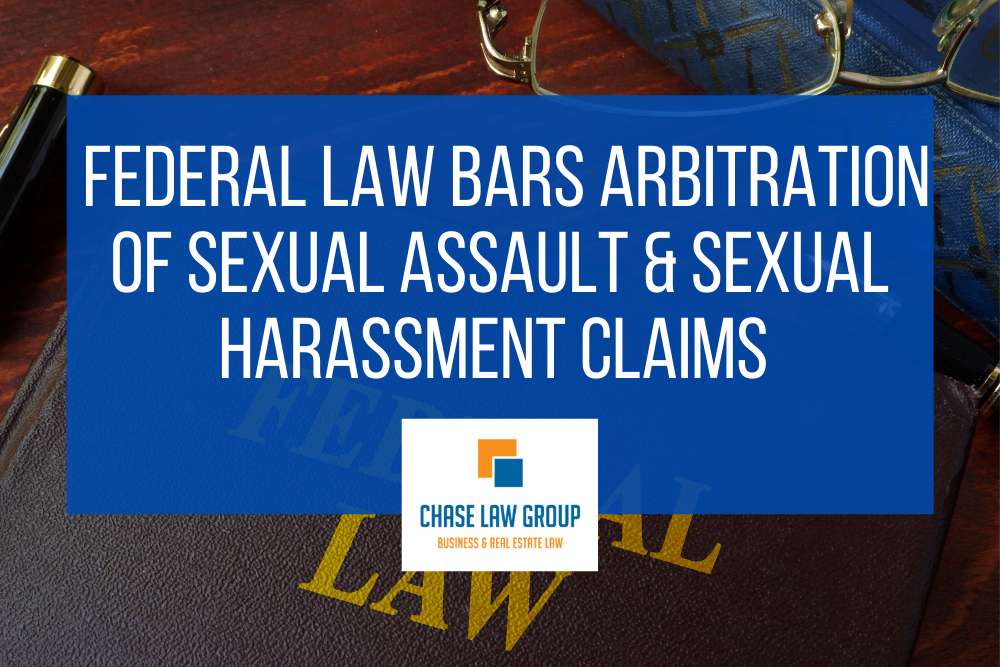 In March 2022, President Biden signed into new law the Ending Forced Arbitration of Sexual Assault and Sexual Harassment Act (EFASASHA), barring the enforcement of most mandatory arbitration provisions in cases alleging sexual assault or sexual harassment.
The EFASASHA will apply to all pre-dispute arbitration clauses, including those in contracts executed before the law's enactment. The law will also invalidate pre-dispute agreements that waive an employee's right to participate in a joint, class or collective action in court, arbitration or any other forum that relates to a sexual assault or sexual harassment dispute. Moreover, if a dispute arises about whether a particular claim qualifies as a "sexual assault dispute" or "sexual harassment dispute," then a court, not an arbitrator, is to answer that question, even if a contractual term exists to the contrary.
The EFASASHA applies only to claims of sexual assault and sexual harassment and does not apply (for now) to other claims of discrimination (such as alleged discrimination based on race, age, religion or national origin) or claims of retaliation. However, note that California Labor Code section 432.6 bars mandatory arbitration in FEHA based claims (based upon gender, sexual orientation, race, national origin and disability) for any arbitration agreements entered into modified, or extended on or after January 1, 2020. Thus, California arbitration agreements entered into before 2020 remain enforceable subject to EFASASHA.
The EFASASHA applies only to claims brought under federal or state laws proscribing harassment, and does not appear to cover claims under local laws. The legislation applies to "pre-dispute" arbitration provisions (i.e., contractual provisions entered into before the occurrence of the alleged harassment) and does not apply to agreements to arbitrate reached after a dispute arises. Finally, the law does not prohibit pre-dispute mandatory arbitration provisions outright, and instead provides what amounts to an "election of remedies," through which alleged victims can either arbitrate their claims or instead proceed to court. The employee's decision whether to arbitrate or proceed to court will ultimately control.
Note that the Ninth Circuit, which includes California, already held in October 2021 in the case of Chamber of Commerce of the US v. Bonta that pre-dispute arbitration agreements must be voluntarily entered into by employees and cannot be mandatory. As such employers should be careful how they present any arbitration agreements to its employees. A refusal to hire an employee who balks at signing an arbitration agreement, could give rise to a claim for retaliation based upon the Ninth Circuit's decision. The Ninth Circuit decision stemmed from its review of Labor Code section 432.6.
Employers should immediately revisit their existing arbitration agreements to ensure they are in compliance with the EFASASHA and the Ninth Circuit's Chamber of Commerce decision. If you have any questions or want to discuss your organization's arbitration agreement in the workplace, or are considering using an arbitration agreement, contact our employment attorney Scott Liner at [email protected]