---
By Admin May 18, 2023 Category: Business Law Tags: brian h cole Business Lawyer Business Owners Business Ownership business protection business risk management Business Startup chase law chase law group chase law manhattan beach deann chase entrepreneurship Franchise Evaluation Franchise Guidance Franchise Investment Franchise Law Franchise Opportunity Franchise Pros and Cons Franchise Research Franchise Success Franchise Tips Franchise Training los angeles business attorney Small Business Advice small business law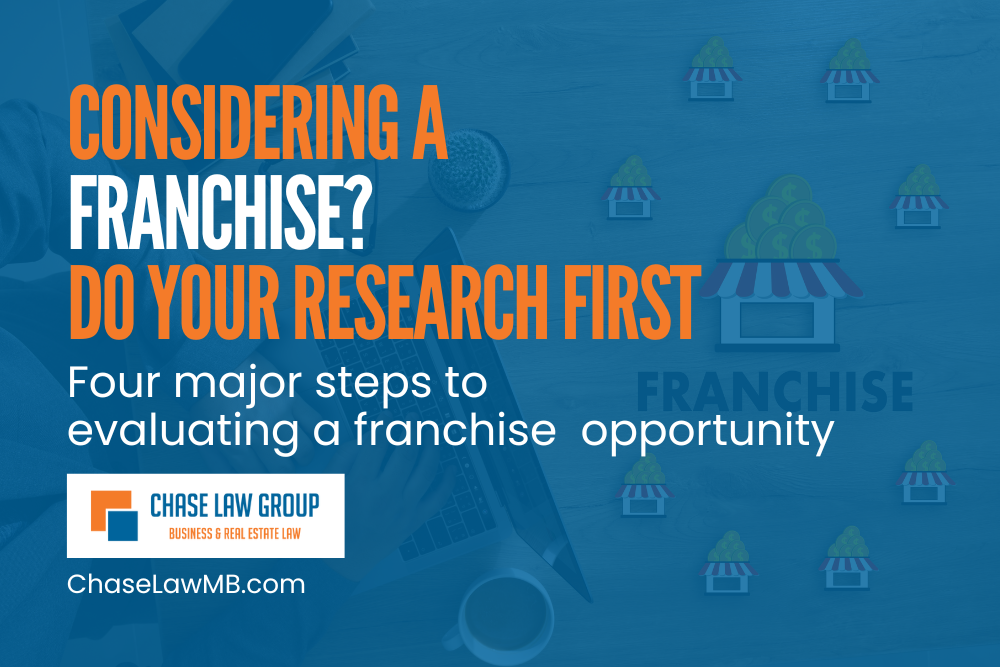 By Brian H. Cole, Franchise and Distribution Law
For anyone considering starting a new business, there are many advantages to buying a franchise. Some of the most important are the guidance and training provided by the franchisor. The franchisor can help choose a location, provide guidance on the necessary equipment and inventory needed, and conduct a training class that compresses what could otherwise be a long period of trial-and-error learning into a class (or series of classes).
But before buying any franchise, it is critical to evaluate the franchise opportunity to be certain that it's the best option. There are four major steps to evaluating a franchise opportunity:
1. Read The Franchise Disclosure Document (FDD)
California and federal law both require that a franchisor provides you with the Franchise Disclosure Document (FDD). The FDD presents some information that the Federal Trade Commission and state regulators believe is important for you to have before you invest your time, money, and effort in a franchise. For a potential franchisee, the most-important part to read is the first 22 "Items" in the FDD (including the footnotes), before the Exhibits. Some of these Items are remarkably short, and some are much longer.
These Items are required by federal law to be written in "plain English," but some franchisors are better at that process than others. It is important that you carefully read these Items of disclosure, even if they are difficult to understand, so that you have a clear understanding of what your obligations will be to the franchisor and what to expect from the franchisor. You should read all 22 Items, but focus particularly on the financial disclosures, which are Items 5, 6 and 7.
2. Call Franchisees That Are In The System
After you have read the FDD, it is very important that you call a selection of the existing franchisees (in a small system, you may be able to call all of the franchisees); you should also try to call franchisees who have recently left the system. You will find a list of franchisees (and of franchisees who left during the last year) in the FDD—often in one or more exhibits to the FDD. Look at the Table of Contents to the FDD to see if the list(s) are contained in Exhibit(s). If not, they will be in Item 20.
It is wise to speak to as many current and former franchisees as possible. Best practices are to prepare a list of 8 to 10 questions that you would like to have answers to. Of those questions, try to ask 2 or 3 "core" questions to each person. In addition to those core questions, you can ask another 1 or 2 questions per person as you have time (and as the person you are speaking to seems willing). That should give you a fair idea of what the franchisees think.
You do not need the permission of the franchisor to call the franchisees or former franchisees listed in the FDD—this is your right, and the reason you are provided the names and numbers in the FDD. While there is no guarantee that any particular franchisee will speak to you, there is also something to be learned if every franchisee you call refuses to speak to you; for instance, they may be unhappy about the opportunity. These franchisees and former franchisees should be able to answer your questions about (a) the support and training that the franchisor offers, (b) the costs to open the franchise, (c) the time it takes to break even (make a profit), and (d) many other answers to the questions you will have.
One thing to bear in mind about this: if the franchisor (or a sales person) suggests that you only call particular franchisees, or gives you a list of franchisees to call, you should be very suspicious. Why are they "steering" you towards those particular franchisees?
Some potential questions to ask franchisees are:
a. Most important question: Would you buy this franchise again? Why or why not? (Alternatively: If your best friend was considering buying this franchise, what would you tell them?)
b. What was your background before you bought the franchise? Had you ever worked in the same industry? (These types of questions are particularly important if you do not have any prior experience with this field.)
c. Did you have any difficulty in finding an appropriate location? Did the franchisor assist you? If so, how? If you were starting over, would you open in the same location?
d. Do you think that the costs to open the business were consistent with the figures in Item 7 of the FDD? If not, what did you pay?
e. Between the initial training program and any on-site support you received when you first opened, did you feel comfortable about operating your unit on your own in the beginning? Did you think that the training was adequate for your level of experience?
f. How long did it take you to open (from the time you signed the franchise agreement)?
g. How long have you been open? How long after you opened did it take you to "break even" for the first time? Since then, have you been profitable every month?
h. Considering the size of your investment, are you satisfied with the amount of money you are making?
i. How many hours do you spend at the business? How does that compare to your expectations?
j. What do you like best about working in this business? What do you like least about working in this business?
k. What do you wish you had asked or known before you bought the franchise?
l. Has anything unexpected happened since you opened your franchise? Did the franchisor help you when that happened?
m. What type of on-going support do you get from the franchisor? Do you feel it is enough or too much?
n. Do you speak often to other franchisees? Do you find them helpful/supportive?
o. Do you know any franchisees who have left the system? Do you know any that are considering leaving? If so, why did they leave (or why are they considering leaving)?
p. If you wanted to sell the business, do you think you would make money on your investment?
Additional questions for former franchisees:
q. Do you regret that you got out of the business?
r. What have you done since you left the franchise system?
Don't feel limited by these questions, however. If there are other things that matter to you, be sure to ask them.
3. Evaluate The Audited Financial Statements of The Franchisor
The franchisor's audited financial statements should be attached to the FDD as an exhibit (look in the Table of Contents to see where they are). If you are not comfortable with reviewing financial statements, you should have your accountant look at them and give you their opinion.
The financial statements should give you or your accountant important information on the financial health of the franchisor. You or your accountant should determine if the franchisor is financially strong enough to support the existing franchisee and the anticipated number of new franchisees (the anticipated number of new franchisees for the coming year is shown in Table 5 of Item 20 of the FDD). As you are completing this review, remember that if you buy a franchise, and the franchisor fails, it is likely to take all of its franchisees with it.
4. Hire Experienced Franchise Legal Counsel
This should be the final piece in your validation of the franchise opportunity. Hiring experienced franchise legal counsel (such as the Chase Law Group) is an important step in deciding whether to move forward with the opportunity. An experienced franchisee attorney (especially an attorney who is a Certified Specialist in Franchise and Distribution Law) reviews FDDs and franchise agreements routinely and understands this highly regulated area of law. As part of the review process, the lawyer should explain to you your obligations to the franchisor and the franchisor's obligations to you, as well as help you understand what provisions in the FDD and Franchise Agreement are typical and what might be a concern.
Attorney Brian H. Cole specializes in this area of law and can help you understand the pros and cons of the particular franchise you may be considering. Contact Brian Cole at [email protected] or call 310.545.7700 to set up a consultation.