---
By Admin July 29, 2021 Category: Business Law Tags: business law california employment law california law california wage and hour law chase law group chase law manhattan beach employment audit employment law los angeles business attorney paga claims scott k liner trial attorney wage and hour law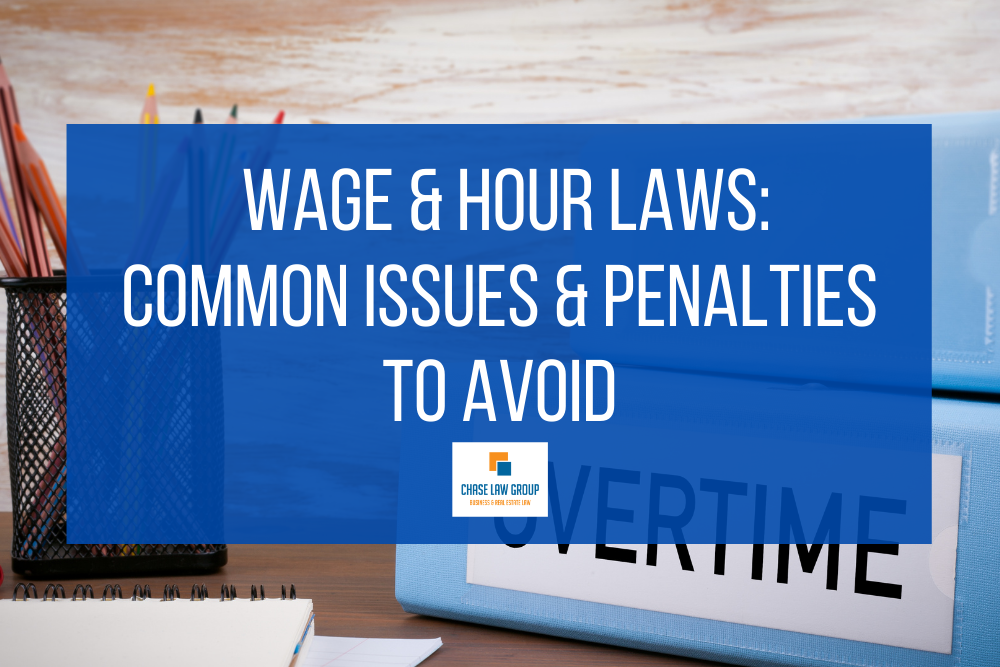 Employers face substantial risks due to misclassification of their workers and not abiding by the myriad of California wage and hour laws. These landmines for unaware employers, have enormous, business-breaking ramifications due to the substantial penalties that could quickly compound and potentially be a million-dollar liability for an organization. By understanding the applicable requirements and their penalties, employers will better understand their exposure and ensure they take necessary proactive steps to avoid them.
What are the most common issues that arise when facing a wage-related claim?
Overtime: Unpaid overtime for all work performed in excess of 8 hours in a day or 40 hours in a week. Double overtime is owed for hours worked more than 12 hours in a day. If an employee is misclassified and paid as an exempt employee (salary) then all money paid to them via salary will be deemed regular hours and not overtime. Thus, you would owe wages for all worked overtime hours.
Liquidated damages for unpaid minimum wage: For any hours for which an employee is not paid at least minimum wage (including unpaid overtime if misclassified as exempt) the employee may recover liquidated damages equal to the value of amounts owed for all unpaid hours. This is in addition to the overtime wages owed.
Meal and rest period violations: For failing to provide meal and rest periods, an employee is entitled to an hour of wage as a penalty with a maximum of two hours in penalties per day even if there are more than two violations daily. This is for every day they worked for up to 3 years.
Waiting time penalties: If any wages owed above are not paid at the time of separation, the employee is entitled to waiting time penalties of up to a maximum of 30 days wages.
Wage statement penalties: For failing to provide accurate wage statements, an employer is liable for $50 for the first violation and $100 for each subsequent violation with a cap of $4,000.
Attorneys' fees/interest: In the event an employee were to prevail in an action for the above violations, they would be entitled to recover attorneys' fees and interest.
PAGA (Private Attorneys General Act) violations: If an employee is misclassified as an independent contractor or if employees were not provided all wages owed, breaks owed, and correct paystubs, they can bring suit on behalf of all other employees who also did not receive the same benefits and recover penalties (not wages) going back one year in time. The penalties are for each employee and for each pay period and typically range from $50 to $200 per violation depending on the applicable statute. Although for a single employee, this exposure may not appear like much, when the PAGA claim is brought on behalf of a number of employees, the penalties can quickly amount to significant exposure.
What can employers do to avoid and prevent these penalties?
Consult with an experienced employment attorney to make sure you are complying with California wage and hour laws in advance of any claim being made. Also, here at Chase Law Group we can review your policies and procedures as part of an employment audit to identify potential risks and make the necessary corrections before it's too late. If interested to learn more about our employment audit or to schedule a consultation, contact Chase Law Group at [email protected] or call 310.545.7700.