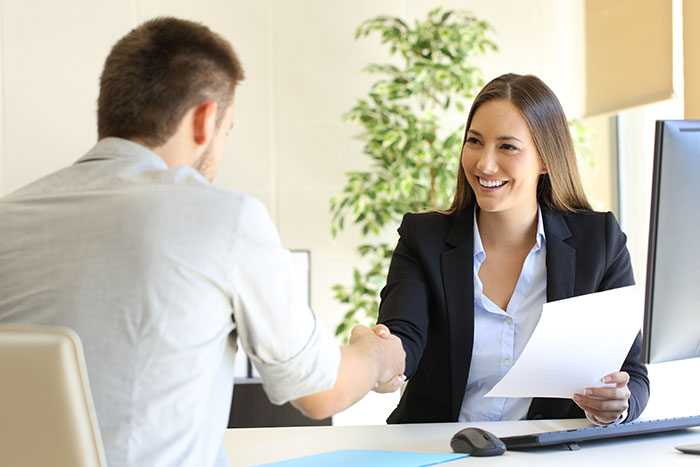 As your business grows, you'll bring in team members to help you manage everything from driving sales to keeping the books straight. Eventually, you'll hire a human resources expert to help you manage your employees, but even before you grow to that point, you can still take steps to avoid stumbling into any common legal pitfalls in the hiring process.
Application
When searching for a new team member, you should start by creating a job description that makes it clear what you're looking for and what it will take to be successful in the role. This is the time to think about what special attributes a candidate would need, such as education, certifications, particular experience, and more. If you're concerned that some of your job requirements may come across as discriminatory—for instance, if this position will require certain physical abilities—talk to your business attorney to determine if you fit into one of the exceptions.
California law was recently updated to require employers to remove questions about an applicant's criminal background from their applications, subject to a few exceptions for particular types of employees. This update means that now is a perfect time to update your application template!
Interview
Both federal and state laws place some limits on the types of questions you can ask during job interviews, such as restrictions on asking about an applicant's children or plans to have children, an applicant's age, and whether English is the applicant's first language. Preparing a list of questions beforehand can help you ensure that you won't stray into inappropriate material during the interview.
California law was also recently updated here, forbidding employers from asking about an applicant's previous salary. This law was designed to ensure that people are hired and paid in line with the work that they will actually be performing, rather than relying on whatever their previous positions were. For you, this means that you should tread cautiously when having the salary discussion with a potential employee or new hire—it's fine to ask what compensation someone is envisioning for the role at your company, but make sure to never ask what they made in a previous position.
After Offer
Once you've issued a conditional offer letter, now is the time to do background checks and drug screening. This process should be as efficient as possible to move the person into their position quickly, but remember to make the required background check disclosures under federal and state law! Check with your business attorney to make sure you're familiar with all the requirements of the federal Fair Credit Reporting Act and California's separate credit and consumer reporting acts.
On-Boarding
When the new employee arrives, having a checklist of paperwork for them to fill out, from tax forms to non-compete agreements, helps ensure you don't miss any important documents. You should also make sure that any new employee receives a copy of your employee handbook and any other policy literature on or before their first day and that they sign an acknowledgement of receipt for these documents. If your business performs any sort of surveillance, including video cameras or email monitoring, make sure you also provide any employee with the proper disclosure and consent forms to do this surveillance.
The first day or two, while conducting job training, is also a good time to sit down with the employee and discuss expectations. This could cover topics such as dress code, behavior, privacy issues, and performance expectations, depending on what is important to your business. For some businesses, safety training, anti-bias training, and other core training is a standard part of the process.
For help designing your application, on-boarding checklists, employee handbooks, employment agreements, and more, reach out to the team at Chase Law Group, P.C. by calling (310) 545-7700 to schedule a consultation today.